Business Loans

PPP Loan Forgiveness
If your business received a PPP Loan, you may be eligible for PPP Loan Forgiveness.
It's important to note that Borrowers can apply for forgiveness any time up to the maturity date of the loan. If borrowers do not apply for forgiveness within 10 months after the last day of the covered period, then PPP loan payments are no longer deferred, and borrowers will begin making loan payments to Seneca Savings (your PPP lender).
Contact Seneca Savings today at 315-638-0233 with any questions or to begin your PPP Loan Forgiveness Application. If you'd like to learn more you can also visit the SBA website which provides all of the eligibility requirements and details about PPP and PPP Loan Forgiveness.

Here at Seneca Savings, we pride ourselves on a vast array of lending products we can offer our business customers, available at our Baldwinsville, Liverpool, North Syracuse and Bridgeport locations. We offer great terms, rates and no application fees. Our decisions are local decisions that best fit our customer needs into the right loan product.
---
Our Business Loan Expert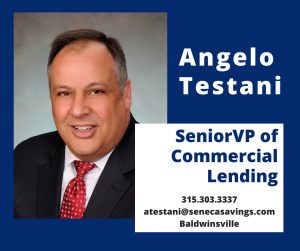 ---
Business Loans
Commercial Term Loan
For equipment, fixed assets, or permanent working capital, ask us about commercial term loans tailored to your needs with repayment terms up to 5 years.
Commercial Mortgage Loan
Seneca Savings can help you manage finances for property acquisition or to refinance existing debt. With long and short term options and attractive variable rate financing, we've got you covered.
Commercial Mortgage Access Line of Credit
This line of credit is secured by real estate. Seneca Savings offers low monthly payments, variables rates, and this line of credit is not required to adhere to a 30-day clean out requirement.
Working Capital Line of Credit
A flexible solution for your short-term borrowing needs. Alleviate cash flow shortages, finance receivables, purchase inventory—use it as you need. Your credit limit can be accessed throughout the life of the line.
Commercial Access Line of Credit
Like the Commercial Mortgage line, we commit to low monthly payments, variable rates, and you don't need a 30-day cleanout. The difference is that you don't have to secure it with real estate.
Equipment Lines of Credit
If you set an available dollar amount for equipment purchases, you can rest assured that funds will always be available up to that amount. Loan terms are available for up to 60 months.
Overdraft Line of Credit
Even when you plan ahead, checking overdrafts can happen. Through Seneca Savings, your Overdraft Line of Credit automatically covers your debits, purchases and checks up to your available limit. It's convenient protection against the unexpected.
Construction Financing
When planning property renovations or construction, consider financing options through Seneca Savings. We offer flexible solutions, including interest-only financing options through the construction period.
To learn more about our Business loans, call our office today at 315-638-0233 and we will be happy to help!