10/26/2015:

Seneca Savings – A Brief History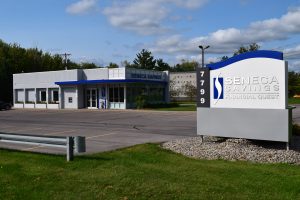 Seneca Savings – A Brief History
When customers visit their local Seneca Savings, they may not realize that it is a community financial institution with deep roots in the local community. It might even surprise them that it's been around since 1928, and that during the past 87 years, the institution has evolved to become the name they know and trust for their financial needs.  The story of Seneca Savings begins with a small, dedicated group of people who wanted to create a community savings and loan and bring better banking options to their families, friends and neighbors.
Early in 1928, 19 people believing in the saving and loan concept pledged their future savings totaling $39,000, then obtained a charter for the Baldwinsville Savings and Loan Association. Those individuals were J. Carl Connell, Leo E. Lonergan, Stan G. Church, J. Carlton Hurley, William B. Davis, Lisle J. Schenck, Fred W. Church, Harry F. Little, Edward H. Marvin, George Reinhardt, George E. Donovan, Henry F. Brooks, Wallace Bigelow, Floyd W. VanWie, Edgar W. Tappan, Matthew G. Frawley, Lewis M. Tappan, Oscar J. Brown and Arthur B. Tyler.
The Baldwinsville Savings & Loan Association officially opened for business in March 1928. Mr. George E. Donovan, who was also mayor of the Village of Baldwinsville, was elected as the first President. The following month the first mortgage loan was approved in the amount of $1,300. By the end of the first year of business, total assets were $5,837.
Seven years later in January 1935, the Association held 42 deposit accounts and at year-end, total assets had increased to $33,215. In 1936, the Association applied to change from its current State Charter to a Federal Charter. This federalization came in 1936, and thus the name became Baldwinsville Federal Savings & Loan Association.
In 1937, the Association hired its first full-time employee to act as Assistant Secretary, Avis Amerman. In 1938, Oscar J. Brown was elected president, succeeding Floyd W. VanWie. At this time the office address was 33 Oswego Street; prior to this, office space had been located at 56 Oswego Street. In 1942, the office was moved again, leasing space at 6 & 8 W. Genesee Street. Today's home address of 35 Oswego Street did not come about until the Association purchased the existing First National Bank & Trust building in 1945.
Eight years later, total assets of the Association were $2,247,000, mortgage loans totaled $1,989,000 and member's share accounts (deposits) were over $1,800,000. Expansion into other Central New York communities began in 1951 when the Federal Home Loan Bank Board (FHLBB) approved the North Syracuse branch to be opened at 107 South Main Street.
It wasn't until 1958 that Baldwinsville Federal Savings & Loan Association changed its name to Seneca Federal Savings & Loan Association. Upon the death of Oscar J. Brown in 1958, the presidency was passed on to Walter McCarthy. Further expansion subsequently followed with the opening of a branch in the Village of Liverpool in 1959. After this, in 1962, work was completed on the new Main Office expansion.
Robert E. Oliver, with the Association since 1955, took over the helm of President in 1968. In 1972 and 1975, the final branch expansions into the eastern suburbs of Onondaga County were completed when branch offices were opened in the Village of Manlius and Canastota respectively. Seneca Federal Saving & Loan Association was one of the first thrifts to be approved for and offer non-traditional products and services to its members with the formation of the subsidiary Savmor Service Corporation in 1982.
In 1989 upon the retirement of Robert E. Oliver, Christopher E. Demong was appointed to the position of President/CEO and William J. Gould was appointed to Executive VP/CFO in December 1988. Difficult times in the early 1990's forced the decision to sell both the Manlius and Canastota offices. Savmor Service Corporation is now known as "Financial Quest, Inc.".
Katrina M. Russo, with the Association since 1998, replaced Christopher E. Demong as President/CEO in 2010 upon his retirement. In early 2012, medical issues resulted in the election of interim President/CEO, William M. Le Beau from April to October 2013. Joseph G. Vitale came to the Association in July 2013 and was elected as the current President/CEO in October 2013. Also, Vincent J. Fazio was elected to the EVP/CFO position in November of that same year forming a new executive management team.
Since Vitale and Fazio were elected, the Bank has undergone many positive changes. The Seneca Federal Savings and Loan Association name was shortened to Seneca Savings in July 2014, depicting a modern feel and insight for what is to come. Additional innovations by the current Management team include: the installation of branch ATMs as well as joining an ATM in-store network free to Association members; the creation of new retail and commercial accounts to fit the deposit and loan needs of today's customer base; the addition of several new retail and commercial employees to support the outsizing growth of the Bank; an updated website, online banking, telephone banking, e-statements, electronic banking and the innovations continue.
In 2015, Seneca Savings relocated its Liverpool, N.Y. branch. The improved design serves as a template for continued modernization throughout the Association, which also reflects the strategic plan and vision of the present board of directors. The relocation of the branch came on the heels of a feasibility study that was conducted in order to gain a greater understanding of customers living and working in the Liverpool area. Findings of the study indicated that most banking customers lived closer to the new location. Additionally, the new location at 7799 Oswego Road afforded customers with three drive-through lanes, including one drive-through full-service ATM, a modernized building design for the convenience of all customers, an expanded parking lot and multiple entrances and exits.
As Seneca Savings looks toward the future, the financial institution plans to make systemic improvements and renovations to the Baldwinsville and North Syracuse offices, implement mobile banking, improve the integration between Seneca Savings and Financial Quest and make additional technological improvements. Seneca Savings expresses a continued commitment to the financial needs of its members, regardless of local or national economic conditions. They express their gratitude to the thousands of member families that have remained loyal to the institution over the years, and pledge to continue to offer consistent, personalized service.