10/04/2021:

The Home Buying Journey – Everyone's situation is different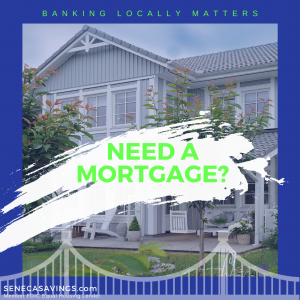 Preparing for buying your Home is One of the Most Important Steps You can Take
Seeing a mortgage professional before you find the house of your dreams, especially right now, is a great idea. There are new and unique twists and turns in the home buying journey and the market is incredibly competitive. Setting yourself up for the best success possible is something the right banking expert can help you with!
Because that professional can guide you and help you to get to where you want to be. They can also help you to do things like look at your credit and guide you through the entire process. If there are any surprises in your credit or perhaps to help you to qualify for certain programs, it's so helpful to have a person who's in-the-know, in your corner right from the start. That's what a local lender can offer you that's so impactful. And particularly a lender like Seneca Savings who goes above and beyond to learn your needs and wants, dreams and situation on a personal level.
The Housing Market
The housing market right now is difficult for buyers who are trying to find just the right house at just the right price, in the right neighborhood, school district, taxes, you name it. The pre-approval and mortgage process shouldn't add to your headaches. And we're ready and able to help you dot the i's and cross all the t's to help it be as smooth as possible for you and your family.

Everyone's Situation is Different
There's one thing for certain, and that is that everyone's situation is different. Whatever path you've taken to get where you are now, it's unique to you. And along with that were probably some unexpected turns in the road. No matter your circumstance, Seneca Savings has a unique set of what we call 'Portfolio Products' that allow us flexibility which means finding the right mortgage that suits you, your family, and your circumstances.
Contact Us today to get started on your home buying journey and avoid the unnecessary pitfalls the can otherwise happen when you don't have a specialized mortgage lender, who's local and understands the markets and your needs, in your corner!
Seneca Savings is an Equal Housing Lender | Member FDIC