04/13/2021:

President's Message Spring 2021

President's Message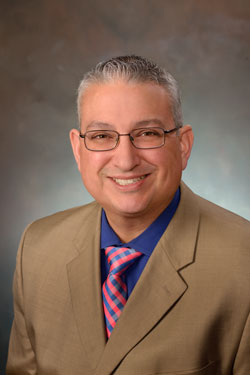 We could never have imagined a year ago that our lobby doors would close and we would see the change of four seasons before they would open again. That our dream teams would be working from home, or that we would create ripples of impact near and far through special loan programs for business owners, the likes of which never existed before. Indeed, it has been a long and winding road, but one we have learned
and grown a great deal by traveling.
The diligence, patience, energy, and commitment from our employees and board members these past many months must be commended. We have given our customers and our community a sense of certainty, in an otherwise uncertain time. The work we do has always mattered but never as much as this past year. As we re-open our lobbies and welcome our employees back on-site, we begin to see new opportunities and an even vaster horizon before us. We intend to further leverage this past year's investments and advances at a whole new level, always mindful of the balance between profitable growth, risk and reward.
Progress and Prosperity
Many advances in our technology paved the way for new customer acquisitions and expansion of present customer relationships both in retail and commercial banking. Across all demographics, the shift to online banking during the pandemic has been dramatic. A notable, increased use of mobile banking is indicated by deposits. Mobile deposits increased from Jan 2020 to Jan 2021 466% in dollars deposited and a 73% increase in users. Remote deposit customers/users increased 30%. For baby boomers especially, or roughly those between 55 and 75 years old, the pandemic has been a catalyst for more rapid adoption of online banking and other financial services. We have answered the call. Incredible coordination and investment of resources have been focused on elevating Seneca Savings' state-of-the-art "BIG BANK" technology over these past (12) twelve months and in the months ahead.
These include:
Upcoming
• Transfer Now | Capabilities for customer to make transfers to Seneca Savings from other institutions and vice versa
• Live Link | Remote customer assistance technologies; Customer chat within online banking along with remote assistance
• Interactive Text | Fraud Alerts for your debit card
• Expanded | Debit card phone support hours (weekends/nights)
• Docusign Capacity and Live now
• Health Savings Accounts | For those with a high deductible health insurance plan; available to consumers and small businesses who want to offer this to employees.
• Micronotes | Interactive communications with customers when logged into mobile or online banking
• Merchant Service sales | Visa/debit card payments for our commercial clients
Noteworthy upcoming advances include expansion of our Residential Mortgage Division, as well as our enhanced focus and growth for Financial Quest, including the addition of Financial Advisors.
The Newest Branch
Last year we spoke of our incredible footprint expansion with the addition of our Bridgeport branch. Poised to serve in a community that truly needed our resources and services, our team readied for their grand opening, only to be held back from a proper introduction to the Bridgeport community due to the pandemic. We extend a special sentiment of gratitude and appreciation to the Bridgeport community and particularly our talented Bridgeport team. You've thrived in spite of tremendous odds. We are committed to our Team and having an impactful voice in the Bridgeport community during 2021 and beyond and we Thank You all!
Financial Literacy Efforts
Advocacy through education remain at the forefront of our mission as we continue our efforts with expert financial literacy partner, EverFi. Through this partnership with area schools, and Seneca Savings Senior VP of Retail Banking, Laurie Ucher at the helm, our bank's impact to date with K-12 Students is astonishing:
• 541 Students who have benefited from our financial education
• 800+ Hours of Learning have been completed across two and a half school years with
• 6 different schools, with an average
• (+) 45% knowledge gain in their financial literacy and capabilities
Sharing Our Story
There's an old saying that "it's tough to read the label when you're inside the bottle." The good works that we do, we often take for granted as we see it as our jobs, that's 'just what we do.' A new marketing firm we've recently partnered with is assisting us in building a bigger megaphone. Particularly through the use of more digital marketing strategies, together we're creating a robust marketing platform for expanding awareness for our offerings. These powerful strategies will drive our online reviews (measurable word-of-mouth and social media channels), customer conversions, and align our storytelling efforts.
Making A Difference
How do you sum up the total impact Seneca Savings has as a community bank? As one of our core values, we continue to craft a powerful true story of charity, being involved and doing good in the community because it's at the heart of who we are. Supporting and investing in our local culture, the arts, athletics, non-profit organizations, played out in unique ways this year given the pandemic. From the little league field to the local diaper bank, back to school backpacks and toys at Holiday time, to our work on behalf of Veterans, celebrating world class jazz music and musicians, and Lighting up Onondaga Lake Park for families to enjoy last December, our team adapted to new guidelines and ensured that we were as present in every way we could be. Raising awareness, shining a light, and sharing the stories that need to be told, uplifted more hearts and spirits, and reaffirmed for so many that we're more powerful, together.
PPP and Building Bridges
Last but far from least is the impact Seneca Savings created for businesses and employees in 2020 and ongoing in 2021 through implementation of an intensely effective and coordinated Paycheck ProtectionProgram effort. If ever there was a testament of fortitude and team effort, this is it. Last summer in Round One of PPP, Seneca Savings processed 282 PPP Loans ($18.5mm) impacting over 2,400 employees in the communities we serve. That landed us in the Top Twenty (20) PPP lenders across the region. Keeping company with the 'Big Banks' and credit unions, Seneca Savings out-performed some of its' much larger counterparts, funding more loans, changing more lives. We did this with no playbook, a steep learning curve, and total and utter belief we were doing the right and necessary thing for businesses and their employees. Senior Vice President, Angelo Testani and his commercial team continue to lead the charge and
are extremely busy processing Round Two of the 2021 PPP loans. As of March 16, 2021, 133 PPP loans totaling ($9.7M) have been processed. What an amazing accomplishment! I'm incredibly proud of the team and talent we have worked so diligently to cultivate. In a time of many dark days for so many across our beautiful towns, schools, businesses and neighborhoods, never has our team been so needed. And never
have they shined brighter.
Customer Survey
A customer survey conducted after Round One of PPP brought rave reviews to the bank and our teams. We achieved a 98%+ high satisfaction rate across the board. Considering PPP was uncharted waters, this accomplishment is truly remarkable and a testament to our five-star customer service, caring, and capabilities.
Here are just a few, compelling comments from our customers:
"I greatly appreciate the willingness in assisting our company with the PPP loan. It was especially refreshing in that as a small company, we like being able to also utilize small businesses. Our only other option would have been a large banking system. Thank You!"
"I met with Tadd Helmer and Courtney Kelly and opened a bunch of accounts and transferred money into your bank. I cannot thank you enough for the PPP loan and your expertise and professionalism in dealing with banking and small business."
"Moving our business account from a large bank to Seneca."
"Angelo and Angela are two real professionals. They treated us awesome and completed the process in record time."
"We have moved all of our accounts that were at [big bank name] to Seneca Savings Bank! We could not be happier with the quick and efficient change over. The communication with Seneca was effortless. We plan to have a long-term relationship with Seneca Saving Bank."
Recognition and Rewards
These efforts have also been recognized by other leaders in our community, as well as our very own employees. Centerstate CEO is a connector, an economic facilitator and advocate, and a true influence and force for our region. CenterstateCEO recently recognized Seneca Savings through the nomination of our bank for Business of the Year. Winners will be announced in April 2021 at the Annual Awards Celebration. Win or lose, to be nominated with only a handful of other notable businesses in the area, is an incredible accomplishment.
This past year Seneca Savings was awarded for a second year in a row, the Best Places to Work Award for Central New York by the Central NY Business Journal. Voted on by our employees, this is perhaps the greatest honor that can be bestowed. We do the work we do because we know we're making a difference. We're building bridges and changing lives for so many stakeholders, on so many levels. To be recognized publicly by and with our peers and employees, is simply the icing on the cake.
In Summary
The season of Spring is now upon us. It's a time of renewal, of new life and invigorated hope. The flowers bloom and the birds sing. Never in our history as a bank and community stakeholder, has Springtimeever meant so much, to so many. We forge ahead with tremendous momentum in our resources, relationships, trust, awareness and renewed commitment. Our entire team recognizes the many roles we play as a community bank for Baldwinsville, Liverpool, North Syracuse, Bridgeport, and surrounding areas. None of these roles do we take lightly whether it be as leader, connector, employer, safe-haven, creator, builder, investor, confidante, and friend. As we cross the seasons of 2021 let us be mindful that every action, every interaction, every kind word we offer, matters. And through remembering that, practicing that, we are magnificently poised to build new bridges and change lives, together.
Respectfully Yours,
Joseph G. Vitale
President, CEO & Director