Mortgage Loans
Buying or Building Your Home
Buying a home is one of, if not the single largest purchase you'll ever make. You deserve to know all you can going into such a big decision so you can navigate all the curves in the road ahead with greater ease and comfort.
There are many options for new home buyers including building your dream home. Guiding you on this path is what we're here for.
So, before you get started on your home buying or building journey, what do you need to know?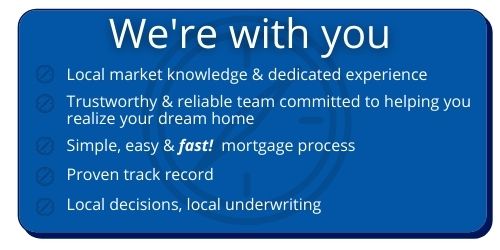 ---
Conventional Purchase
A majority of potential home buyers utilize the path of a conventional purchase:
1st & 2nd Homes

Minimum of 5% Down payment

Must be a Primary residence

PMI falls off automatically at 78% loan to value
*Note that PMI stands for the private mortgage insurance required if you're putting less than 20% down payment on your new home at the time of purchase. While it does add to your monthly payment, it allows you flexibility to get into your dream home without the burden of 20% of the purchase price towards your down payment at the time of closing.
Purchase Rehabilitation Loan 
Purchasing a home that needs TLC? This type of loan is for the fixer-uppers.
This is a unique loan which allows extra funds to be borrowed at the time of purchase to allow for home renovations
First-time home buyer purchase
Requires a minimum of 3% Down

PMI falls off automatically at 78% loan to value
*Like all of our mortgage products, the first-time home buyer mortgage is also conventional (not FHA).

Construction Loans
Can't find the exact home available on the market that you're dreaming of? Build the house that becomes you and your family's home with our new construction loan, End Loans & Draw Loans
Purchase/Refinance/Construction

Minimum of 5% Down (includes PMI)

One-time Close for ease and speed

Land Loans
Portfolio Products
Life has a way of taking turns and twists. Sometimes you may require a different, non-standard mortgage. Every situation is different. If you don't fit into the traditional mortgage guidelines, we have options for you!
Refinancing
When you need to utilize the equity in your home, whether for debt consolidation, home improvements, etc., refinancing is a strong option. 
Home Equity Lines of Credit
Leverage the value/equity in your home to create a HELOC (Home Equity Line of Credit).
Line of Credit

Interest paid is only on the amount being utilized

No penalty for pre-pay or keeping the line open for longer than three years

Max LTV 80%
Contact one of our Loan Officers today with any questions you may have!
Member FDIC   Equal Housing Lender