08/19/2022:

EXCLUSIVE Offer: 1.5% Money Market*

Effective August 19, 2022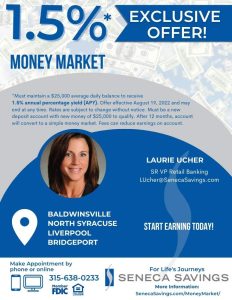 Now Offering a 1.5% Money Market Account
Terms and conditions apply:
*Must maintain a $25,000 average daily balance to receive
1.5% annual percentage yield (APY). Offer effective August 19, 2022 and may end at any time. Rates are subject to change without notice. Must be a new deposit account with new money of $25,000 to qualify. After 12 months, account will convert to a simple money market. Fees can reduce earnings on account.
Member FDIC Equal Housing Lender