01/16/2020:

Durgee Junior High Students Awarded Seneca Savings Financial Scholars Program Certificates

Baldwinsville, New York – Durgee Junior High Students in Patrick Chetney's technology class were recently awarded certificates for completing a course module through the Seneca Savings Financial Scholars Program, according to Seneca Saving Senior Vice President of Retail Banking, Laurie Ucher.

27 students received certificates for completing the Financing Higher Education module through EVERFI as part of the new program offered through Seneca Savings.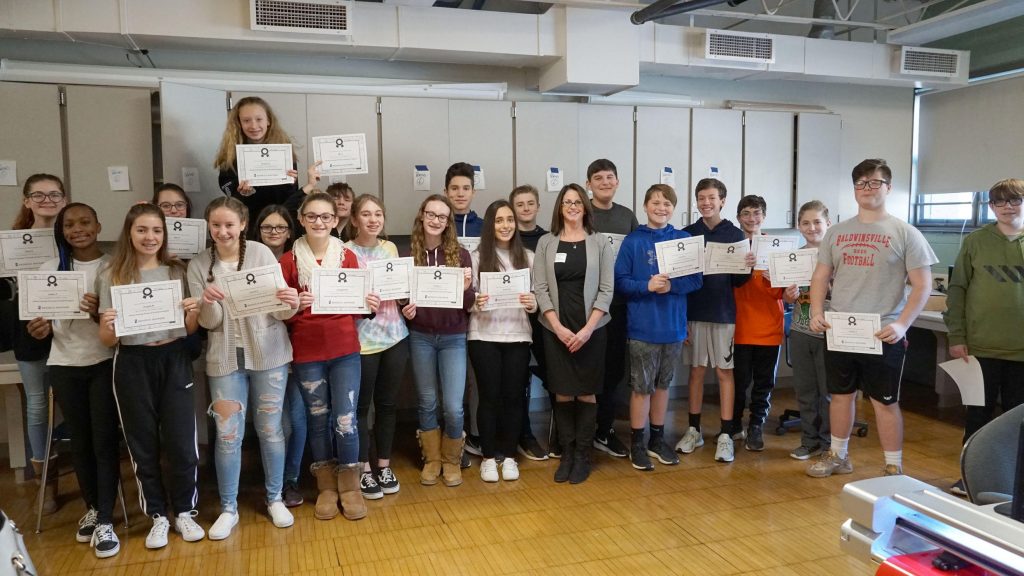 The bank's partnership with EVERFI's digital curriculum on Financial Education is now providing area schools, including Durgee Junior High in Baldwinsville, with digital resources and online edtech programs.
EVERFI is available to students of all ages and teaches students how to make wise financial decisions to promote financial well-being over their lifetime. Students accelerate their financial understanding through problem-solving, self-reflection and additional games that provide real-life scenarios for practice.
There are seven modules within the Seneca Savings Financial Scholars Program offered through EVERFI including: Banking Basics, Income & Employment, Budgeting, Consumer Skills, Managing Credit and Debt, Financing Higher Education, and Insurance.
The digital financial education program and modules are 15-25 minutes each.
Students at Durgee Junior High also applied for an EVERFI scholarship. Every student enrolled in the EVERFI Financial Literacy program is eligible to apply for a $1000 scholarship. The students must complete an essay on the subject matter and submit the application in a timely manner. The students are eligible to apply twice as long as the student is enrolled in the EVERFI program.
According to Ucher, the following schools are currently using Seneca Savings' literacy program: CW Baker High School, Baldwinsville, Theodore R. Durgee Jr. High School, Baldwinsville, Elmcrest Elementary School, Liverpool, Chittenango High School, Chittenango, Morrisville High School, Morrisville, and Morrisville Jr. High School, Morrisville.
"Sponsoring the financial literacy curriculum for students at Durgee and other schools in the region is extremely exciting to Seneca Savings, and so beneficial to these students," said Ucher. "We greatly appreciate the partnership with Mr. Chetney at Durgee, and we are now participating in his classroom once a month, covering the various topics and modules offered through our Financial Scholars Program."
For information on how your school or district can partner with the Seneca Savings Financial Scholars Program please contact Laurie Ucher at (315) 638-0233.
About Seneca Financial Corp. and Seneca Savings
Seneca Savings is a Federally Chartered Savings Bank headquartered in Baldwinsville, New York, whose deposits are insured by the Federal Deposit Insurance Corporation.
The bank is the wholly-owned subsidiary of Seneca Financial Corp. (MHC) (OTC Pink – SNNF). The bank has four full-service offices located in Baldwinsville, Liverpool, North Syracuse, and Bridgeport.
Seneca Savings offers a variety of deposit, lending and mortgage products and services to consumer and business customers.
As of September 30, 2019, Seneca Savings had total consolidated assets of $210.5 million, and $144.6 million in total deposits.