Commercial Deposit Accounts

Seneca Savings is more than a bank. We're a part of your community – whether you bank at our Liverpool, Baldwinsville or North Syracuse location – and our focus is always on providing our clients with exceptional, personalized service every day. We understand local business. With 89 years in the banking industry behind us, you can trust that the guidance and services you receive are the highest quality and tailored to your needs. Experience the difference a local banking relationship makes. Experience Seneca Savings.
To provide our customers with superior products and services, we have expanded our suite of commercial depository accounts. In response to feedback from our clients, we have set up new account tiers, encompassing a broad spectrum of needs and requirements.
Simply Free Business Checking:
1,000 FREE monthly transaction items
NO minimum balance
NO monthly service charge
Business Interest Checking:
1,000 FREE monthly transaction items
Competitive interest
Only $5,000 monthly minimum balance to avoid a low monthly fee of $6
Commercial Checking:
Competitive interest
Only $15 monthly service charge
Transaction items are just 15¢ each
Not-For-Profit Account
A free account for Charities, Churches, and Non-Profit Agencies.
Free monthly e-statement
No minimum balance
No per transaction charge

Hassle-free, worry-free rent collection thru ZRent. 
Zrent works by automatically deducting rent payments from the tenant's bank account and depositing them directly into the landlord's account. ZRent eliminates late or lost rent payments, providing peace of mind  for landlords. It is free for landlords who have a Seneca Savings operating account.
To learn more about the new commercial depository products at Seneca Savings, call our office today at 315-638-0233 and we will be happy to help.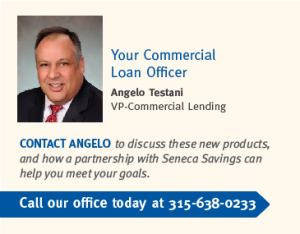 *transactions are defined as all debits and credits posted to your account during the month.
Minimum opening deposit is only $25. Other fees such as non-sufficient funds, overdraft, sustained overdraft fees, etc. may apply. See fee schedule for details. Free gift may be reported on a 1099-INT or 1099-MISC. Free gift provided at the time of account opening. $10 for checks and debit cards from another financial institution given at the time the checks/debit cards are presented. Transaction items include all debits an credits. If the Simply Free Business or Business Interest account exceeds 1,000 free monthly transactions, the account may be converted to another checking product. Ask us for details. Bank rules and regulations apply.