06/18/2021:

Buying Your Dream Home
"Buying Your Dream Home:" Helping You Get From Here To There
What are the steps you can take toward buying your dream home? Mortgage Lender Eric Morgan of Seneca Savings had a virtual sitdown this week to take your questions and give straight answers on what it takes to buy that dream home you've been imagining. Let's take a look at some of the things that are helpful to keep in mind when you're deciding to make that big move and land the home of your dreams.
"Begin with your local banker. Your lender's job is to help you get from here… to there,"  Eric Morgan.
The First Stop When You Want To Buy A Home
People often think the first step to buying your dream home is finding that home of your dreams and THEN going to the bank to see what you qualify for on a mortgage. The recommendation from our expert Eric Morgan is to flip flop that process. "Begin with your local banker. Your lender's job is to help you get from here… to there," says Eric. "By starting with your banker, you can avoid a lot of potential pitfalls and set yourself up for the best success possible in getting the mortgage you want for the home of your dreams." What are some things your lender can help you prepare for?
Credit Report

Budgeting

Debt Reduction

Realtor Referral
Relationship Matters When It Comes To Your Mortgage
Building a relationship with your lender is important. Who do you want in your corner? Your banker of course! And what's the best opportunity for building a local relationship with someone you can count on? With your local, community bank. "We're so fortunate here at Seneca Savings that we have the best of both worlds," says Eric. "It's why I made my move from a big bank to Seneca Savings… decisions are made right here. Our CEO is hands on. We all work together as a team to help you build that bridge to getting what you want for you and your family. We're in it with you. Sometimes the big banks just reduce people to numbers. That's the furthest from the truth here at Seneca. We're with you every step of the way and want to see you win. Every person's situation is unique. It's our job to do everything we can to help you get into the home of your dreams."
Buying Your Dream Home This Month or Next Year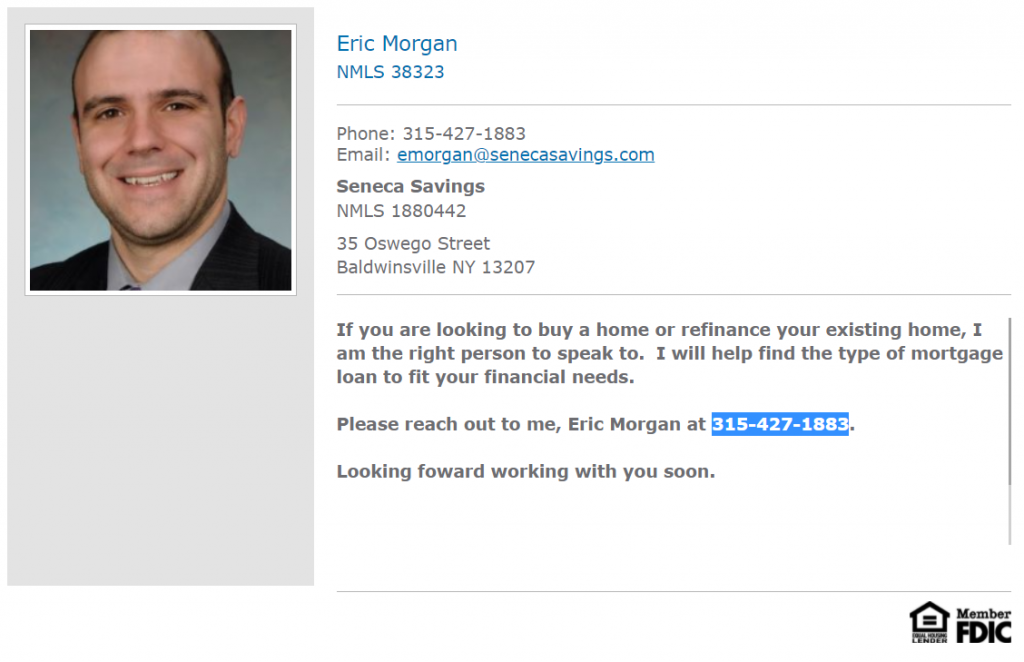 Whether you're ready to make your mortgage move now, next month, this Fall or next year… it's smart to involve your bank sooner rather than later. If you're interested in talking one on one and getting the inside story on how to best begin your home buying process, reach out to Eric. He's ready and waiting to answer any questions you have. "Think of me as your forever-resource when it comes to buying your dream home. I'll help you build that bridge," says Eric. You can phone Eric at our Baldwinsville branch at 315-638-0233 or directly at 315-427-1883.